Smack DVD
Hip-Hop DVD Magazine
S.M.A.C.K. Magazine is a quarterly DVD-magazine that focuses on the various contents of the entertainment, movie, television, fashion and sports industries. S.M.A.C.K. Magazine represents the Streets, Music, Arts, Culture and Knowledge. It combines these elements to form a channel of communication between celebrities and large audiences that provides visual, mental and informational stimulation. Viewers can see music artists, comedians, designers, models, sports figures, producers, engineers and a list of many more.

Smack DVD Magazine takes a deeper look into the lives of the celebrities in their natural settings through on-the-spot interviews. The audience will get to see their favorite stars and entertainers discuss and go through their day-to-day hustle and bustles. The magazine takes the viewers on the block, to the studios and to the sets with the people they want to see.

Aside from the focusing on the sports, entertainment and fashion industries, SMACK DVD Magazine travels to various functions around the country to give viewers a taste of the events that they may not be able to get to or may not know about. Smack DVD Magazine features live concerts, car shows, talent shows, comedy shows, panel discussions and a variety of other events that viewers want to see.

Smack DVD Magazine is geared toward a unisex audience ranging between the ages of 18 and 35. Although SMACK DVD Magazine is made for all audiences, the magazine targets the urban, hip-hop, African-American community.

Smack DVD Magazine's first issue was released in November 2002. The magazine is distributed quarterly, soon to be bi-monthly and mainly supported by advertisers.

Featured in previous and upcoming issues of Smack DVD Magazine:
50Cent
Juelz Santana
Jae Millz
Raekwon
Zab Judah
Ghostface
Joe Budden
Jim Jones
Remy Ma
Fat Joe
T.I.
Cassidy
David Banner
Xzibit
State Property
Cam'ron
Loon
Miss Jade
Clipse
Lil' Flip
…and many more!!!!!

Smack DVD Magazine takes the streets to…

Memorial Day Weekend in Miami with Cam'ron and the Diplomats
The Dirty South with David Banner
Exclusive freestyle battles featuring Jae Millz
Powerhouse in Philadelphia
Dyckman Basketball Tournaments
The Gun Range with Xzibit
The hottest night clubs for live celebrity performance
Live video shoots
The studio with their favorite artists
…and anywhere else the streets need to be!!!

Whatever you need, Smack DVD Magazine has it!
Whatever you want, Smack DVD Magazine will get it!
Whatever you like, Smack DVD Magazine already knows it!

Smack DVD Magazine…the realness of hip-hop… giving the streets what they want!!!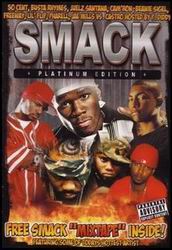 Smack DVD Volume 3
Smack DVD Volume 5
Smack DVD Volume 7
Smack DVD 9
Smack DVD Volume 11